Funder
Collaborators
Duration
Environment Canterbury (ECan)
Environment Canterbury (ECan)
5 years 11 months
Start date: 01 Jul 2017
End date: 30 Jun 2023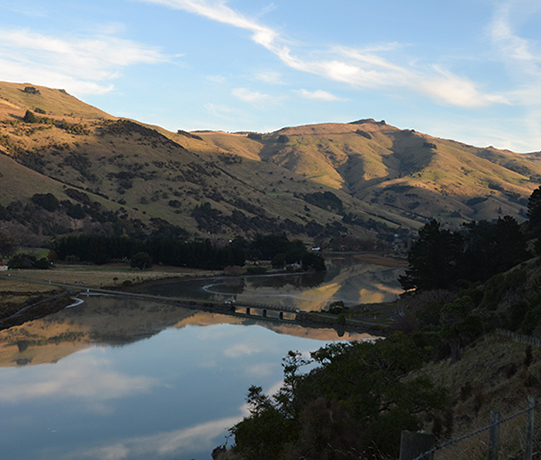 Producing up-to-date soil maps
Improving the soil data coverage of New Zealand is an ongoing effort by MWLR that is financially supported by many regional councils. While substantial progress has been made in flat and rolling country, hill country is still underrepresented in the national soil map and database despite its importance for livestock farming, forestry, conservation and recreation. Also, soil material that erodes from hill country will not only degrade the soil cover in the hills but has a significant impact on water quality, ecosystem health and infrastructure.
From previous work dating back to the 1930s, we already have a general understanding about the soil pattern on Banks Peninsula. There are two dominant soil types and soil forming environments:
Deeper soils developed from loess – a fine-grained, windblown sediment. They occupy the lower slopes and flatter ridge top positions.
The steeper slopes, where loess did not accumulate, are dominated by shallower and stonier soils derived from the dark-coloured volcanic rock that is so typical for most of Banks Peninsula.
The differences in the soils origins are directly linked to their functionality: susceptibility to erosion, movement of water in the soil, nutrient supply to plants, and the retention of contaminants.
Improving our knowledge of the soils on Banks Peninsula and other hilly land in New Zealand is therefore vital to making better land use and management decisions to safeguard and enhance the benefits of the New Zealand environment.
Since 2017 Environment Canterbury has been funding MWLR to undertake soil and erosion mapping on Banks Peninsula, including the Port Hills. Over the next years we will incrementally add new areas to S-map, eventually covering the whole peninsula. The initial focus is to secure and incorporate legacy data and concentrate on the land surrounding Lyttelton Harbour, supporting the ongoing effort to minimise erosion and sedimentation that negatively affects its water quality and ecology.
Stage 1 (2017-2018): New soil and erosion mapping was undertaken on the eastern side of the Port Hills from the Sign of the Kiwi to Gebbies Pass; the legacy soil maps from the 1980's were integrated into S-map (the northern slopes between Worsley's Spur and Godley Head, and the western slopes between Worsley's Spur and Gebbies Pass).
Stage 2 (2018-2019): New soil and erosion mapping from Gebbies Pass to Adderley Head to cover all of the Lyttelton Harbour catchment.
Stage 3 (2020-2023): Remaining areas of Banks Peninsula.
Stages 1 and 2 of the project have been completed, while Stage 3 is currently in progression.
In this work we combine a mix of methods:
Analysis of spatial data (e.g., aerial imagery, topography, climate) using geographic information systems and geo-statistics to guide field work
Field descriptions of morphological properties of soils, sediments and rock at selected locations across the area
Chemical laboratory analysis of selected soils and soil properties
Development and testing of predictive, spatial models for various soil properties in Banks Peninsula using geostatistics.
Survey outcomes
The soil maps resulting from Stages 1 and 2 have been uploaded to S-map Online, and can be explored from there.
A scientific, peer-reviewed article on how the different soil-forming factors in the area impact on soil formation has been published in the JGR Earth Surface Journal.
http://doi.org/10.1029/2021JF006198
Historic soil surveys
Harris & Harris (1938): Soil survey of Duvauchelle Bay - Wainui District, Banks Peninsula.
http://doi.org/10.7931/DL1-SBP-0001A
Griffiths 1974: Soils of part of the Port Hills and adjacent plains, Canterbury, New Zealand.
New Zealand Soil Bureau Bulletin 35 (pdf, 7.9MB)
Trangmar & Cutler (1983): Soils and erosion of the Sumner region of the Port Hills.
http://doi.org/10.7931/DL1-SSR-70
Trangmar (1986): Soil-landscape relationships, Barrys Bay-Wainui district, Banks Peninsula
http://doi.org/10.7931/DL1-DOR-CH20
---
---
Contact details
André Eger
Manaaki Whenua - Landcare Research, 54 Gerald St, Lincoln 7608, New Zealand
P: +64 3 321 9851
Email André