Funder
Collaborators
Duration
Northland, Waikato, Horizons, Hawke's Bay, Auckland Council, Environment Southland, Ministry for the Environment, Ministry for Primary Industry, Our Land & Water National Science Challenge, and Federated Farmers
NIWA, Massey University, Waikato University and international collaborators from KU Leuvin, IRSTEA, University of Salzburg, HAFL Switzerland. Our partners include Whanganui iwi (Tamaūpoko Community Group) and Rangitāne o Manawatū.
4 years 9 months
Start date: 01 Oct 2018
End date: 01 Jul 2023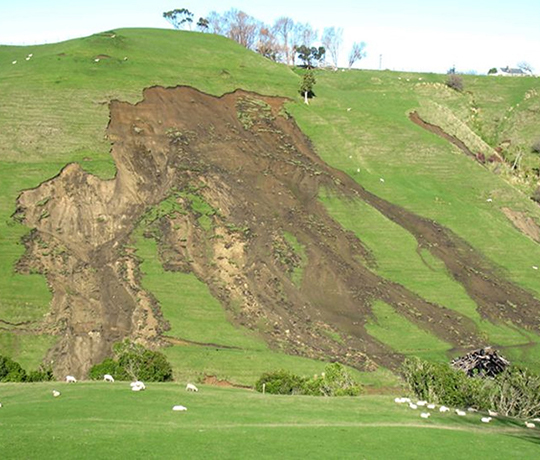 Exploring cost-effective ways of targeting land-based erosion control
To meet national freshwater objectives for catchment management, regional councils and land managers need higher-resolution data on catchment erosion and sediment delivery to streams, and new tools and models that provide information at appropriate scales. These are essential for efficient and cost-effective erosion and sediment mitigation, and will also assist planning for predicted increased storminess as a result of climate change.
The NZ landscape is characterised by a complex array of erosion processes with high spatial and temporal variability, which provides a challenging environment for process-based erosion and sediment science and modelling. Our research will address global research questions and put NZ at the forefront of international research by significantly improving understanding of:
spatial and temporal patterns of erosion
sediment-related water quality
sediment mitigation performance
model refinement (e.g. from average annual to storm-event scale)
the economic analysis of erosion and sediment mitigation.
A 5-year MBIE funded programme Smarter Targeting of Erosion Control is now well underway, exploring cost-effective ways of targeting land-based erosion control in the hope of slowing the damage and improving water quality. The programme is led by Manaaki Whenua – Landcare Research in collaboration with NIWA, Massey University, Waikato University, international researchers, programme partners Whanganui iwi (Tamaūpoko Community group) and Rangitāne o Manawatū, as well as several regional councils.
Research is focusing on four catchments across New Zealand: the Manawatu – for new and continuing data collection; the Whanganui – to investigate impacts from the 2018 storm and legacy sediments; and the Oreti in Southland and Wairoa near Auckland – to research storm event sediment loads and sediment source fingerprinting methods in collaboration with NIWA's Managing Mud programme.
---
---
Contact details
Hugh Smith
Manaaki Whenua - Landcare Research, Palmerston North, New Zealand
P: +64 6 353 4809
Email Hugh